Chef Robert was asked by family and friends to come up with a peanut butter cookie to add to his lineup. He worked on a recipe and brought it to the Newton Farmers Market to get the honest opinion from his market customers. Well, Chef didn't disappoint. The cookie was a big hit all market long and now has been added to the lineup on the Pocket Watch Bakery webpage. This cookie has sugar, eggs, chocolate chips and of course peanut butter. Oh, and don't forget a lot of love.
All orders must be placed by 4:00 PM on Friday. We bake on Monday night and deliver on Tuesday after 4:00 PM. Personal deliveries are made within 10-miles from Zip Code 02451. Other deliveries will be made according to USPS shipping. Unfortunately, we are unable to ship outside of Massachusetts at this time. We accept most major credit cards, cash and Venmo. Prices may vary and are subject to change. Please note that our bakery is NOT a nut free bakery. Our apologies.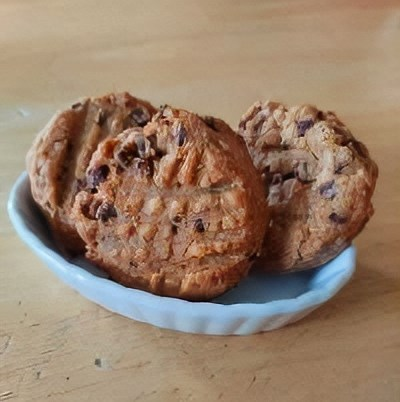 Peanut Butter Chocolate Chip Cookies are approximately 3-inches in diameter.
1 bag of 10 cookies: $10.00 + delivery
Call us at 781-330-5854 or email us at bakerrob89@gmail.com and place your order by 4:00 PM on Friday. We bake on Monday night. When your treats are complete, your order will be delivered to you on Tuesday after 4:00 PM.
For larger quantities, please see our larger quantities page, or call Pocket Watch Bakery.